2023: Art of Illumination
January 31, 2023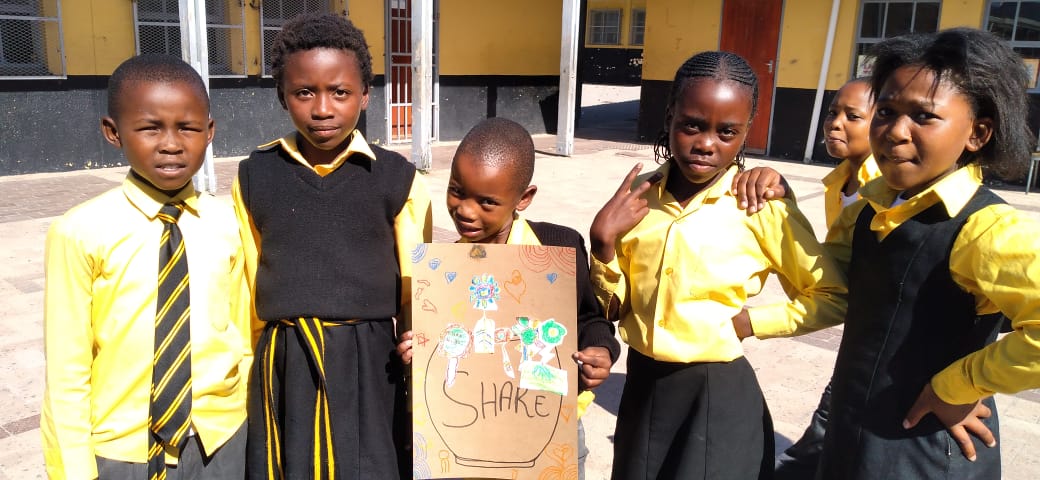 Above: Ukhanyo Primary learners in Masiphumelele show their collaborative artwork based on Lalela class values.
A new year means a new curriculum theme for our educational arts programmes. We're so excited to share what we have in store for 2023…
"Over the past two years our curriculum has focused heavily on healing and recovery in order to deal with the devastating effects the pandemic had on our learners," explains Lalela's Executive Director Firdous Hendricks.
"Our theme for 2023 is The Art of Illumination, which will focus on developing mastery in our learners. With the strong foundation we have built in their wellness, we're now able to provide them with the technical skills to produce successful artworks and develop their sense of competence and self-control."
To illuminate is to bring light to something, to reveal what might have been hidden or unknown, and to bring clarity. The Art of Illumination therefore seemed the perfect overall theme for this year's curriculum.
The goal this year is to develop mastery in our learners.
Mastery is one of the four principles of the Circle of Courage, a model of youth development that is based on four universal growth needs of children: belonging, mastery, independence, and generosity. The model integrates Native American Philosophies of child rearing and modern youth development research.
Mastery, according to the Circle of Courage, helps learners feel like they have achieved something, and that they are successful. It builds their confidence in their creativity and competence. It helps them to be motivated and persistent.
Each term has its own sub-theme, starting with 'The Art of Awakening' in Term 1, which kicked off late January and continues through to end March.
The focus is on 'awakening' the senses and the development of curiosity in learners through exploring the possibilities of art. It is about sensory experience, awareness, learning skills through tactile experience, and exploring creativity while building technical skills. There will be a strong emphasis on technical drawing while still being sensory and exploratory. The theme/inspiration is music.
The anticipated outcomes include the establishment of classroom rules, creating a safe and supportive environment that integrates Lalela values, building relationships and trust as well as a sense of belonging for the learners and encouraging teamwork. In addition to guiding our learners to explore and develop their creative thinking, we'll also be teaching them basic art skills.
Above: Learners from Oranjekloof Primary in Imizamo Yethu, Hout Bay in the Western Cape, hold up artworks they produced in their first week of the new term.
With incredibly full and visually rich curriculums planned, the Lalela Facilitators are overflowing with ideas, passion and motivation to fill every learner's "journey of illumination" with creative adventure, invaluable experiences and deep knowledge.
We look forward to sharing our young artists' progress with you over the coming months, as well as updates on the themes for the next three terms.
Watch this space, 2023 is going to be a good one!
Share this story with a friend...
Your generosity makes it possible for Lalela's educational arts programmes to create meaningful change that affects thousands of at-risk children in Sub-Saharan Africa.
Your generosity makes it possible for Lalela's educational arts programmes to create meaningful change that affects thousands of at-risk children in Sub-Saharan Africa.
SUBSCRIBE TO OUR NEWSLETTER
SUBSCRIBE TO OUR NEWSLETTER