Celebrating our matriculants' results
January 21, 2022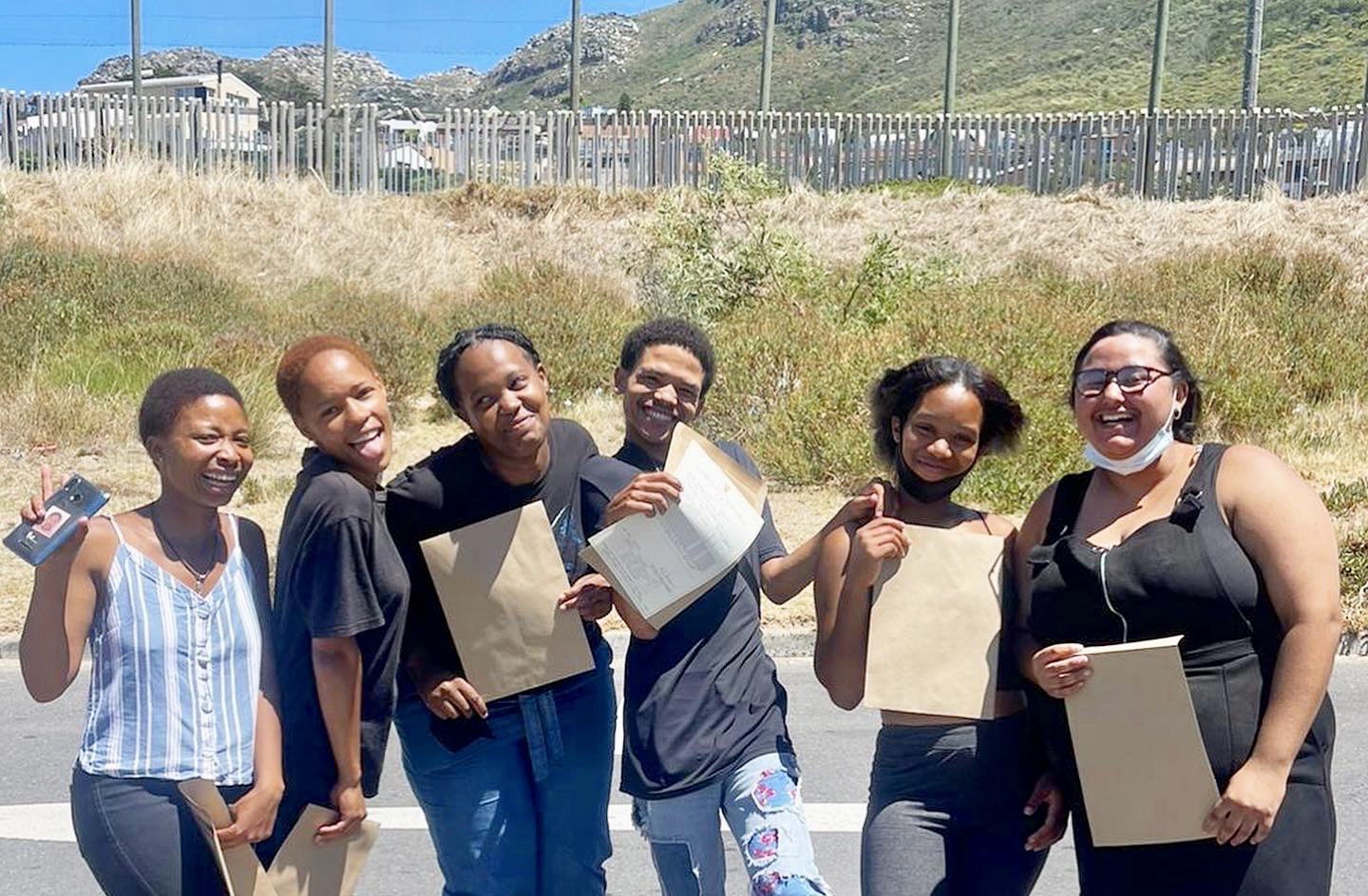 Above: Lalela's Class of 2021 graduates from Hout Bay High share the jubilation of their 100% pass rate. Pictured here: Michelline; Roxzell; Genevieve; Ryan; Bern; and Tarren. Featured image: A joyous moment as Shawn, Kamva and Yolanda receive their results at Silikamva High.
We couldn't be prouder of the Lalela students who passed their final school exams with flying colours despite the tremendous challenges faced during their matric year. A difficult and stressful enough year as it was, it would have been made all the more challenging following the devastating disruption to their studies during 2020 when Covid-19 all but ground regular classes to a halt.
Both groups of Lalela students who graduated from the high schools in Hout Bay, Cape Town, with which Lalela partners in its after-school programme, obtained a 100% pass rate.
Of the nine Lalela students who graduated from Silikamva High School in Imizamo Yethu, eight achieved an impressive Bachelor's degree pass, which will allow them to apply for tertiary study at university level. Over the past three years, the school's pass rate has jumped from 44% to 84%, testimony to the dedication of the school's leadership but, more importantly, to the learners' hard work and dedication through especially trying times.
At Hout Bay High School in the community of Hangberg, the 12 learners who were enrolled in Lalela's after-school programme did similarly well, with five achieving a Bachelor's pass.
According to an article in the Daily Maverick, the overall pass rate in South Africa has improved by 0.2 percentage points, increasing from 76.2% last year to 76.4% in 2021. The newspaper reports Basic Education Minister Angie Motshekga as saying, "The Class of 2021 was the most affected by the Covid-19 pandemic because they had to endure two consecutive years of harsh exposure to the unrelenting Covid-19 pandemic."
According to the article:
The matric pass rate is often criticised as being an untrue representation of the actual pass rate by analysts who look at the number of learners who enter the basic education system in Grade 1, versus those who eventually pass matric.
"These analysts generally attribute this 'inaccurate reflection' to the failure of our educational system," said Professor Nadine Petersen, executive dean of the University of Johannesburg's Faculty of Education.
"There may be some truth in that, but what I think we are not taking cognisance of sufficiently in those kinds of arguments are that there are other factors that also play a role on the road from Grade 1 to matric. This road is often filled with many pitfalls that are not just pertaining to the education system," said Petersen.
Factors such as poor socioeconomic circumstances, lack of nutrition, lack of resources and reading material, lack of social interaction and organised play in early development years, poor family support, violence against children, and Covid-19 disruptions should all be taken into account by analysts when arguing this point, said Petersen.
After Covid-19 continued to disrupt the education sector in 2021, Petersen said she had been concerned about the challenges faced by matrics, and had "anticipated a drop in the pass rate". However, Petersen said the 76.4% pass rate is a "pleasant and welcome surprise".
"It is really a cause for celebration. Our learners are under extremely difficult circumstances, and this matric cohort in particular, has done exceptionally well under the circumstances," Petersen said.
The National Professional Teachers' Organisation of South Africa (Naptosa) said it was "pleased" with the 76.4% matric pass rate, which represents a "marginal increase" from 2020.
"Naptosa acknowledges that the past two years have been extremely challenging for all in the education sector, especially the class of 2021, having to contend with rotational, online and hybrid classes as well as forced school closures.
"This improved result is remarkable in the context of the difficulties that the class of 2021 faced," the union said.
Credit: Daily Maverick
Your generosity makes it possible for Lalela's educational arts programmes to create meaningful change that affects thousands of at-risk children in Sub-Saharan Africa.
Your generosity makes it possible for Lalela's educational arts programmes to create meaningful change that affects thousands of at-risk children in Sub-Saharan Africa.
SUBSCRIBE TO OUR NEWSLETTER
SUBSCRIBE TO OUR NEWSLETTER