Creating hope through art in the Hangberg community
March 11, 2022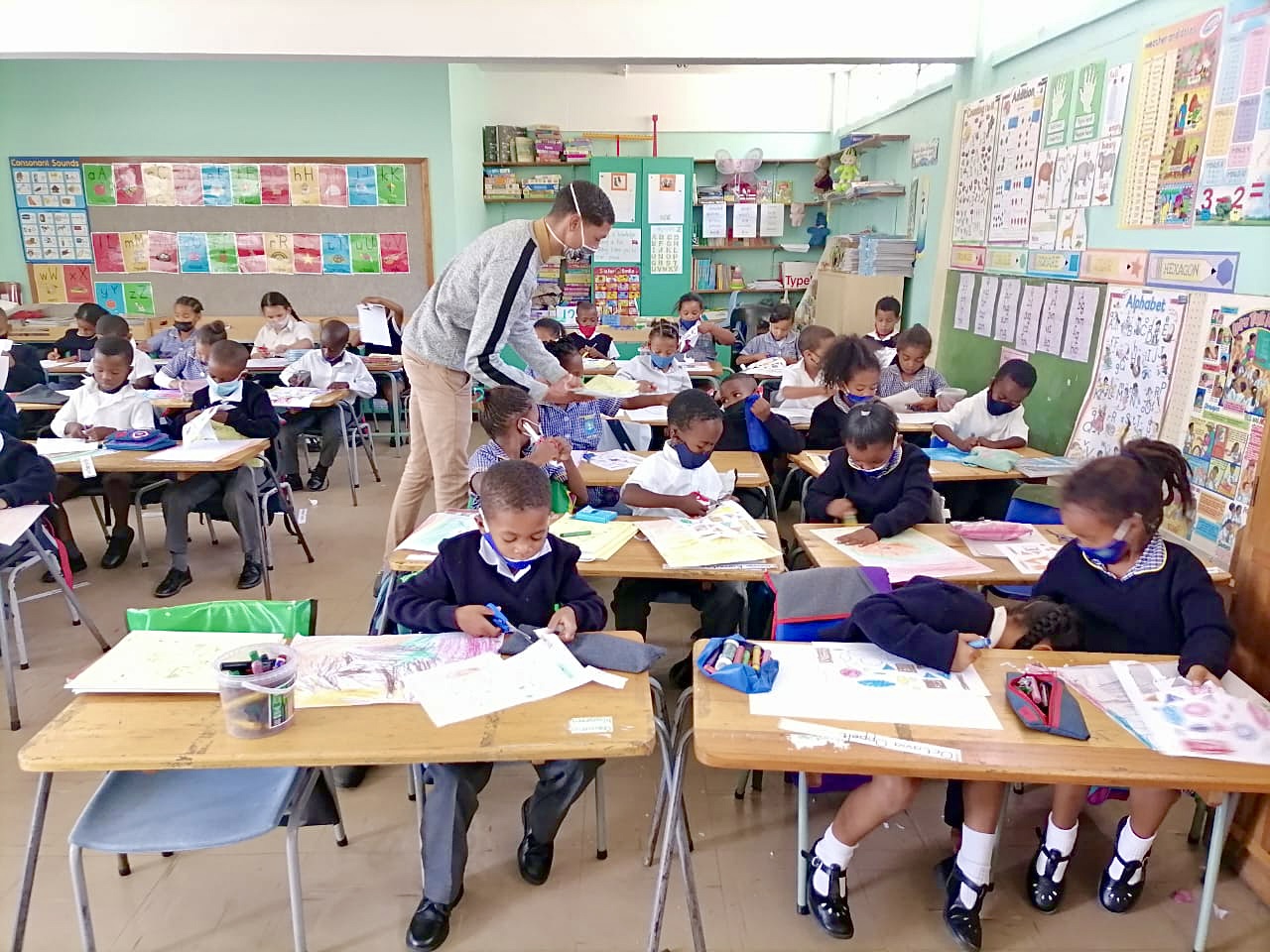 Above: Mark and his full classroom of Grade 1 learners at Sentinel Primary
Hailing from the community of Hangberg in Hout Bay, Mark Oppelt started his Lalela journey as a teenaged learner in our programme. A talented artist himself, and a widely respected role model for countless youths, he's now one of our longest serving art facilitators – working in the same classrooms where he spent his childhood school years…
Being a Lalela art facilitator at Sentinel Primary School – a school I once attended – in the community of Hangberg – where I live – I always feel inspired working with our learners, witnessing their growth from a young age and seeing them graduate to high school.
I feel so proud hearing positive stories about them from their high school facilitators and I feel blessed for what Lalela has done for my community and for giving me the opportunity to walk a journey with these amazing youths.
Working with the Foundation and InterSen phases (Grade 1 to Grade 7), my focus is on keeping my learners safe and creatively occupied in a positive way, after school when they are at their most vulnerable.
The past two years of the Covid-19 pandemic were difficult, but in keeping with one of our Lalela values, we 'reimagined challenges as opportunity', using our collective strength, courage, integrity and perseverance to see us through this time. Amazingly, our learners not only excelled at being creative in our workshops, they also achieved excellent results academically. Most of our Lalela learners received top academic achiever awards, especially those who have been with Lalela for a number of years.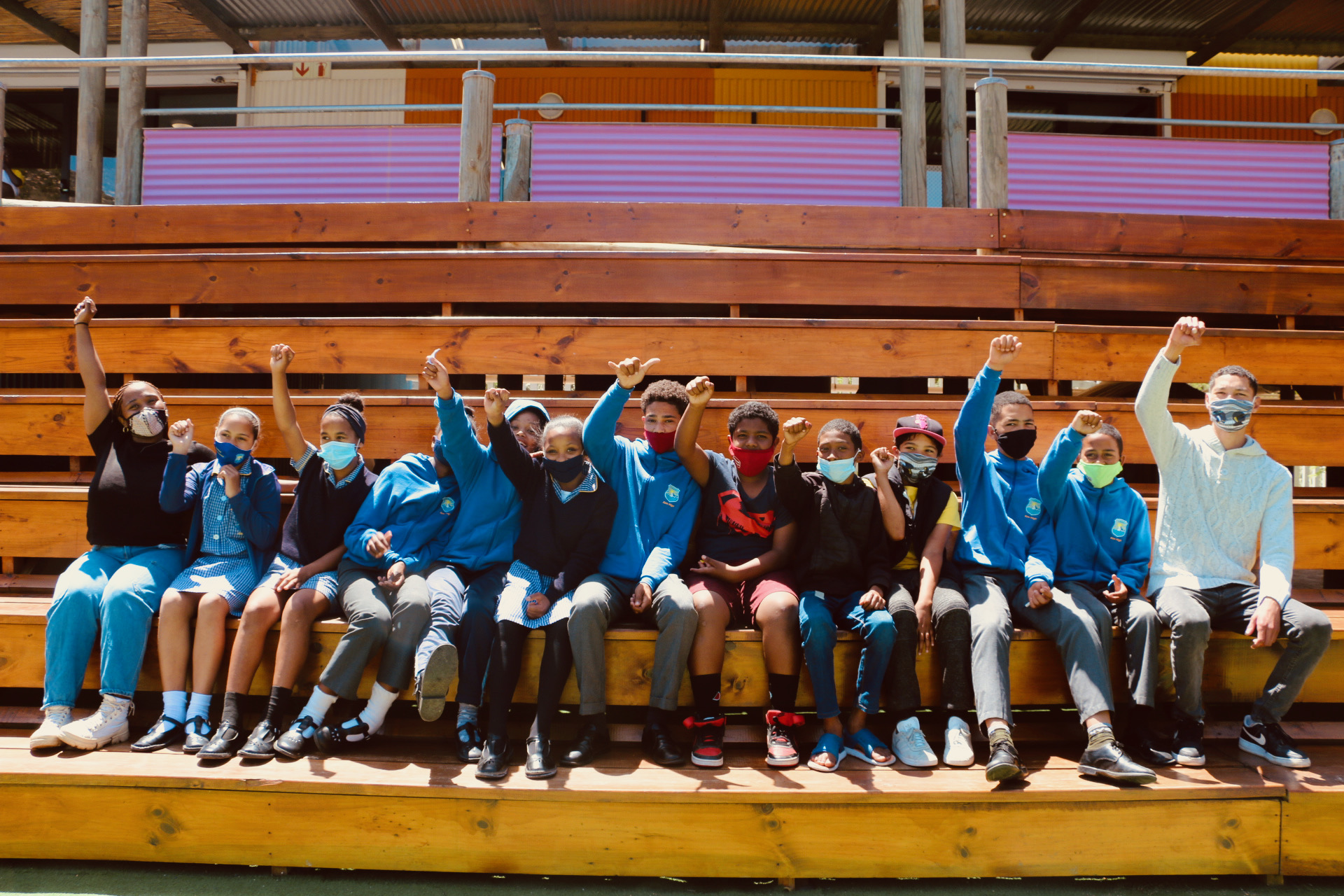 Above: One of our groups in 2021 – due to Covid-19 protocols, only half of the class was allowed into the space per day, and were divided into two groups.
Despite facing the Covid 19 challenges, we managed to create exciting projects and were fortunate to host inspiring holiday programmes and visit the Stevenson art gallery in Woodstock, Cape Town. The learners experienced the photography and sculpture installations of South African artist, Zanele Muholi. The exhibition was incredibly educational, bringing their awareness to gender-based violence. Our leaners are exposed to so many violent events in their communities and this exhibition showed them how art can allow them to raise their voices and regulate their emotions.
Most of my learners' artwork was chosen to be exhibited at Lalela's stand at this year's Investec Cape Town Art Fair, which is a great achievement for these learners. Their only artistic training and experience is through Lalela, so to be part of a big event is truly amazing. I am so proud of them.
Above: Some creative art works by Leeché (12); José (13); and Zahkiel (13)
We are looking forward to what else the year ahead has in store for us. Apart from returning to full classes again and making lots of wonderful art together, we're planning on projects to encourage active citizenry among our learners – one of our goals is to work on some beautiful murals at the school and elsewhere in the community.
Lalela has had a major impact in the community, providing a navigational path for youths to follow. Learners who have been with the project see the bigger picture and feel much more confident about pursuing their dreams; they don't see themselves as a disappointment. They want to be part of the change in their community, becoming role models and leaders, and knowing there is better to come.
To my 2022 learners I would like to proudly say: keep up the good work!
Below: Mark's Grade 1 learners at Sentinel Primary
Share this story with a friend...
Your generosity makes it possible for Lalela's educational arts programmes to create meaningful change that affects thousands of at-risk children in Sub-Saharan Africa.
Your generosity makes it possible for Lalela's educational arts programmes to create meaningful change that affects thousands of at-risk children in Sub-Saharan Africa.
SUBSCRIBE TO OUR NEWSLETTER
SUBSCRIBE TO OUR NEWSLETTER