From Lalela Student to Lalela Intern
March 1, 2021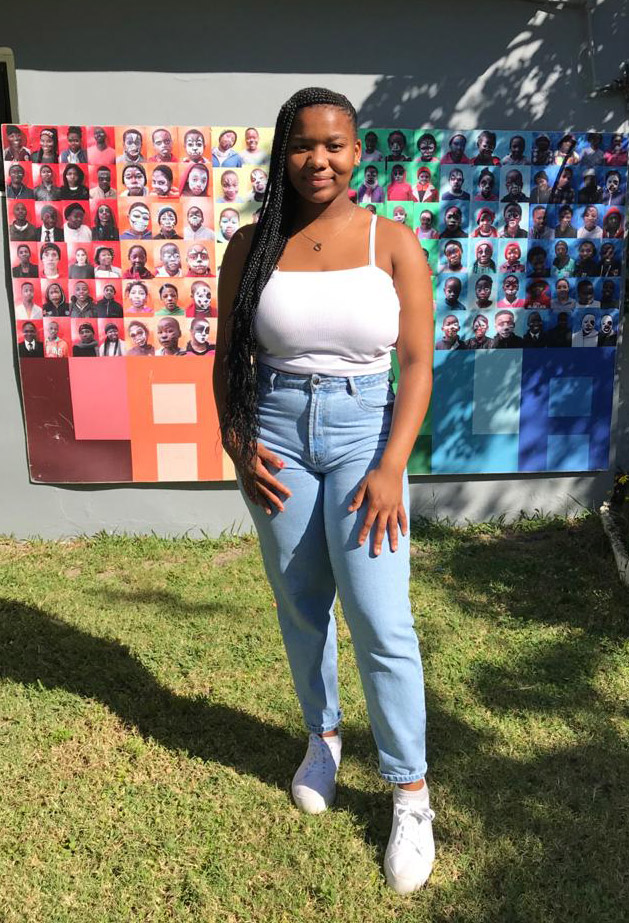 Engaging with the bright, bubbly and confident presence that is Lalela alum Melody Bongiwe Legwale, it's hard to believe that this is the same shy little girl who began her journey with us a decade ago. Graduating last year from Silikamva High School in the Hout Bay township of Imizamo Yethu, Melody has taken a gap year to join our team as an intern where she's already ably assisting our facilitators with workshops and enjoying being part of our team.  
Tell us more about yourself…
I live with both my parents in a community called Imizamo Yethu. I have two siblings – a brother and a sister – and they are both older than me. They are both not in the Western Cape, which makes me the only child living with my parents.
I'm a hardworking young woman who sets reasonable goals for herself. I am very courageous because I believe having courage gives me tenacity to work through issues and disagreements. I'm ambitious, a people-person and eager to learn new things. I enjoy facing challenges and I also like keeping a positive attitude. I surround myself with positive-minded people.
Tell us about your Lalela journey?
I started with Lalela in 2010 and my journey has continued with the project until now. I started off a very shy little girl, who found it hard to make friends because she was too shy. As I attended Lalela classes I started interacting with other kids in groups and individually and I got to have friends. Lalela also boosted my confidence and helped me to speak up.
My best experience at Lalela was meeting (Lalela art facilitator) Nwabisa Ndongeni and being in her Lalela Female Empowerment programme. Being in Lalela's leadership programme was also my best experience because I learnt how to set a good example in my community and to the kids that are looking up to me. Leadership taught me to be honest and truthful to myself and others and to create an inspiring version of the future. I was also taught to be a respectful and responsible young leader.
Lalela has taught me a lot and I really want to continue my journey with the project. Lalela has become a part of me, it's my family. I joined to be an intern because I feel the work experience would be great and the learning experience would help me in knowing what my career interest really is. The internship gives me a chance for career exploration and development. What I hope to achieve is a clear sense of which career I really am interested in.
What are your plans for next year and your future goals?
I would like to further my studies next year. Hopefully by then I would be certainly sure on what I want to study and what it actually is that I am interested in.
My greatest dream is to be able to take care of my family financially and physically. I have a dream to be successful and to be able to help all the people that helped me get to my success. My greatest wish is to travel the world and meet new people. I wish to learn about different cultures around the world, different languages, everything different to what I know, I wish to have enough money to take people out of their miseries and I wish to help the poor. I want to be a happy human being because being happy is being grateful for all the good things that are happening in my life. My dream life is to be brave enough to be vulnerable.
My wish is to only focus on going in the same direction and to appreciate every blessing I have. My greatest wish is to inspire the kids that look up to me and to change their lives by being the best role model. My biggest wish of all is to make my parents happy and to give them the life they never had.
Share this story with a friend...
Your generosity makes it possible for Lalela's educational arts programmes to create meaningful change that affects thousands of at-risk children in Sub-Saharan Africa.
Your generosity makes it possible for Lalela's educational arts programmes to create meaningful change that affects thousands of at-risk children in Sub-Saharan Africa.
SUBSCRIBE TO OUR NEWSLETTER
SUBSCRIBE TO OUR NEWSLETTER