Full circle for this Lalela co-facilitator
November 30, 2022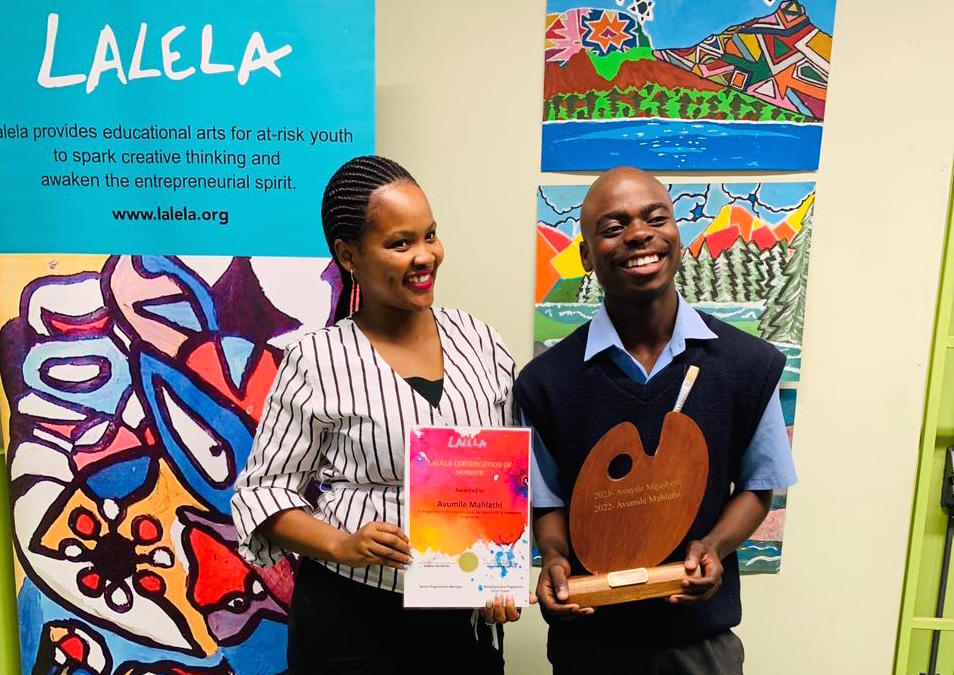 Above: "I wanted to be part of the team that was changing the lives of young kids; this work feels like I am giving back to my community." – Nosiphiwo Gwantshu
Meet Nosiphiwo Gwantshu, co-facilitator at Lalela's programme in Masiphumelele near Fishhoek, Cape Town. An integral part of our team for almost two years, Nosiphiwo – or Nosi as she's also fondly known – started her Lalela journey as a high school learner in 2012. Now she's inspiring a new generation of our young artists to reach beyond their wildest dreams. We asked her to share her story with us…
"Education is the most powerful weapon which you can use to change the world".
This is a quote from Nelson Mandela that has inspired me from a young age and I hope will continue to inspire the young people of our time, who are facing so many challenges. I wish they would never give up on pursuing education.
Now 26 years old, married, and with a beautiful baby daughter, I graduated from Masiphumelele High School in 2014. While I went on to study Public Management at False Bay College, qualifying in 2017, I observed that I had more passion for working with kids than actually being office-based fulltime. This led me to apply for the Masiphumelele co-facilitator position at Lalela when it was advertised at the beginning of 2021.
Little did I know that I was fulfilling one of my greatest dreams. I wanted to be part of the team that was changing the lives of the young kids. I for one was once a kid and I was groomed and empowered to be the best version of myself, so this work feels like I am giving back to my community.
I was born in East London and I grew up in Masi. My friends and I were introduced to Lalela as Grade 10 learners. I was an energetic teenager and I wanted to be involved in more meaningful programmes after school. Lalela happened to be one of the programmes. I was also lacking in confidence and Lalela became a place where I could be myself and be at peace. It was more like a second home to me.
I was not good at drawing but that was nothing compared to the safe space I was in and with people that cared deeply for me. I used to enjoy the outings, the role-playing and meditation. I remember when we were acting in the Shakespeare Schools Festival at Artscape, which was the greatest night and felt like a dream come true.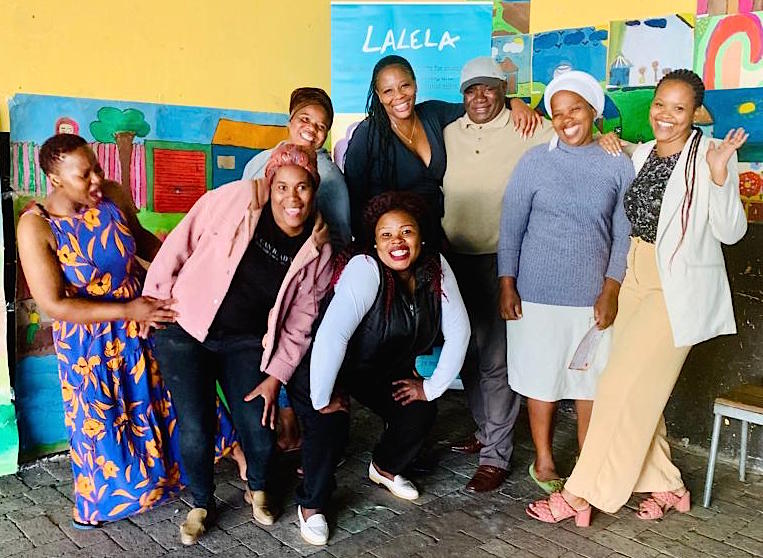 Above: Nosi at the recent community exhibition she planned in Masiphumelele
My mother used to say: "Lalela is the exciting place for you. I see so much growth and happy child in you". Indeed I was enjoying myself, gained so much confidence and made so many friends.
When I started working for Lalela I didn't have much experience as a facilitator. I've had an amazing journey so far and have learned so much. I'm proud to say I had the best manager who wanted nothing but growth for me. The team have also played a huge role in my development.
The best part of my job is that I can give hope to my kids in the programme and give them a reason to smile. I love interacting with them; I get to learn their personalities, capabilities and their short falls. I also enjoy engaging with my fellow team members, as I look forward to equip myself with the knowledge and experience they have.
It has been a rewarding time for myself seeing the greatest turnout of kids through our holiday programmes, having the same kids throughout the year, and running successful workshops. The most exciting reward was when my manager tasked me with planning the year-end exhibition and I was impressed with the incredible attendance of parents and kids, the compliments from teachers and parents, and my beautiful kids made me proud of the effort I make to get things done.
I am grateful for my journey at Lalela, which seemed "impossible until it's done".
Share this story with a friend...
Your generosity makes it possible for Lalela's educational arts programmes to create meaningful change that affects thousands of at-risk children in Sub-Saharan Africa.
Your generosity makes it possible for Lalela's educational arts programmes to create meaningful change that affects thousands of at-risk children in Sub-Saharan Africa.
SUBSCRIBE TO OUR NEWSLETTER
SUBSCRIBE TO OUR NEWSLETTER