Lalela Virtual Benefit
June 1, 2021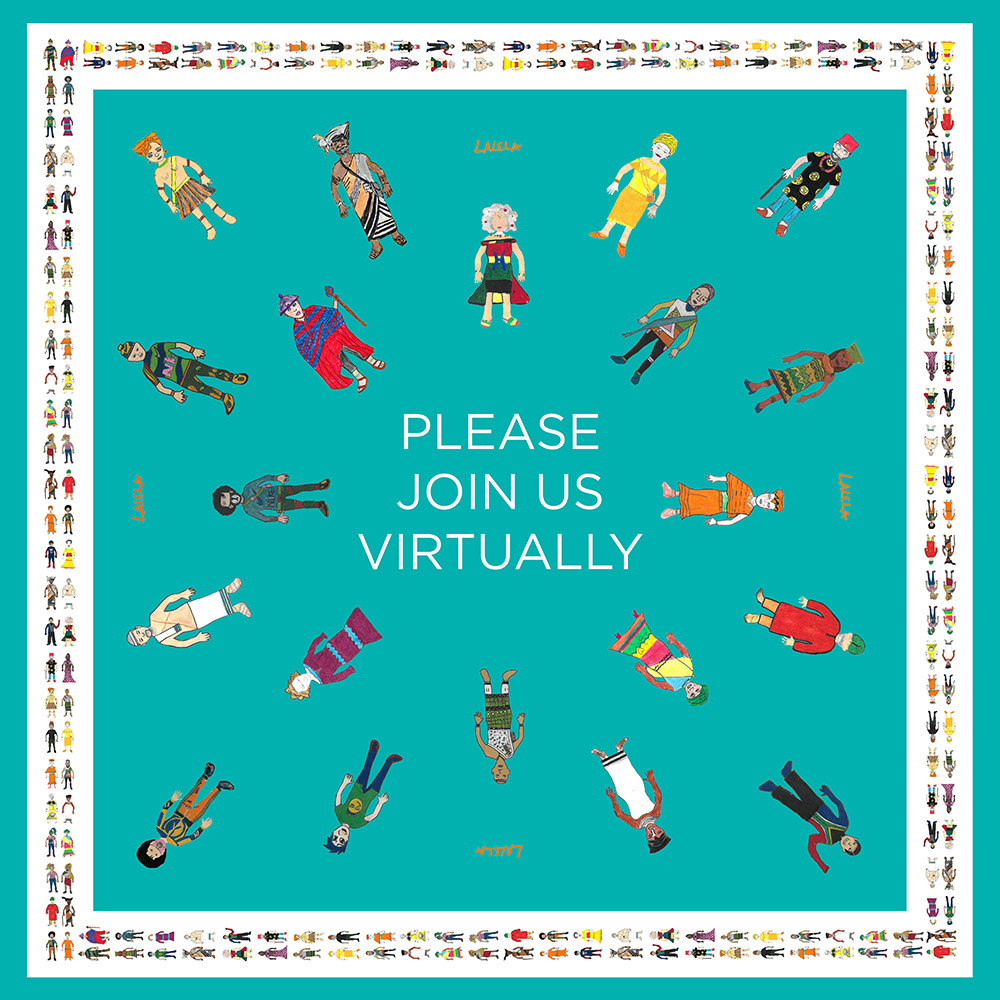 The Lalela Virtual Benefit is set to take place on Sunday, June 13th, across multiple time zones.
This event will bring our community together from all over the globe to celebrate our students and the impact Lalela has on the at-risk children and families that we work with in Sub-Saharan Africa. This virtual event promises to be unlike any other, an artful and fun party without pretense, accompanied by some moving performances – including South Africa's celebrated Ndlovu Youth Choir!
Please join us at:
1:00pm USA East Coast
10:00am USA West Coast
6.00pm United Kingdom
7:00pm South Africa
We hope you will lend your support by joining us at this year's virtual benefit. Funds raised from the benefit will allow Lalela's arts programs and community initiatives to continue providing very important psychosocial outcomes for children, a sense of security for vulnerable families and communities, and feelings of joyfulness through the arts during the Covid-19 crisis and beyond.
View the various ticket levels or make a donation:
As you may know, Lalela provides educational arts for at-risk youth to spark creative thinking and awaken the entrepreneurial spirit. Lalela hosts workshops every day after school and during the holidays in the hours when children are most vulnerable to abuse of every kind. In Lalela's classrooms, children learn how to map and manifest their dreams and goals, launching the possibility of a different future for themselves and their communities.
The COVID-19 crisis has created an unprecedented need in the communities Lalela serves, making Lalela's programs more important than ever. South Africa, a developing nation with substandard medical infrastructure, has been particularly hard hit by Covid-19, with a new variant and another lockdown looming. Our students, part of an already vulnerable population with no social safety net, have had to endure all that comes with the pandemic while living in a resource-deprived landscape cluttered with the hazards of extreme poverty.
Lalela has stepped up to provide a safety net, foster resilience, and offer a way for learners to further develop life skills and academics to get them through this crisis and excel in life after Covid-19.
Lalela quickly pivoted to provide learners with virtual access to our life-changing arts curricula, which includes creative arts-based methods to instill healthy habits and psychosocial tools that our students can use to stay safe and cope during these troubling times. Here are just a few of the measurable outcomes from our Covid-19 response:
An assessment of Lalela Virtual conducted through Learner Surveys found that 93% of learners feel they can better use art to manage stress or anxiety.
79% of learners felt that they made new or stronger friendships because of Lalela Virtual, an especially important element for children during this strange time of isolation.
Lalela Virtual is reaching 10 times the number of learners in comparison to other virtual after-school programmes in South Africa.
During this time of record high unemployment, we have distributed 6,400 food parcels and vouchers, along with necessary PPE supplies in Lalela's communities.
If you have any questions, please contact Melissa Jester at 212-579-2480 or melissa@lalela.org.
Share this story with a friend...
Your generosity makes it possible for Lalela's educational arts programmes to create meaningful change that affects thousands of at-risk children in Sub-Saharan Africa.
Your generosity makes it possible for Lalela's educational arts programmes to create meaningful change that affects thousands of at-risk children in Sub-Saharan Africa.
SUBSCRIBE TO OUR NEWSLETTER
SUBSCRIBE TO OUR NEWSLETTER