Jonathan Butler Spotlights the Impact of Lalela's After-School Programmes
October 26 , 2023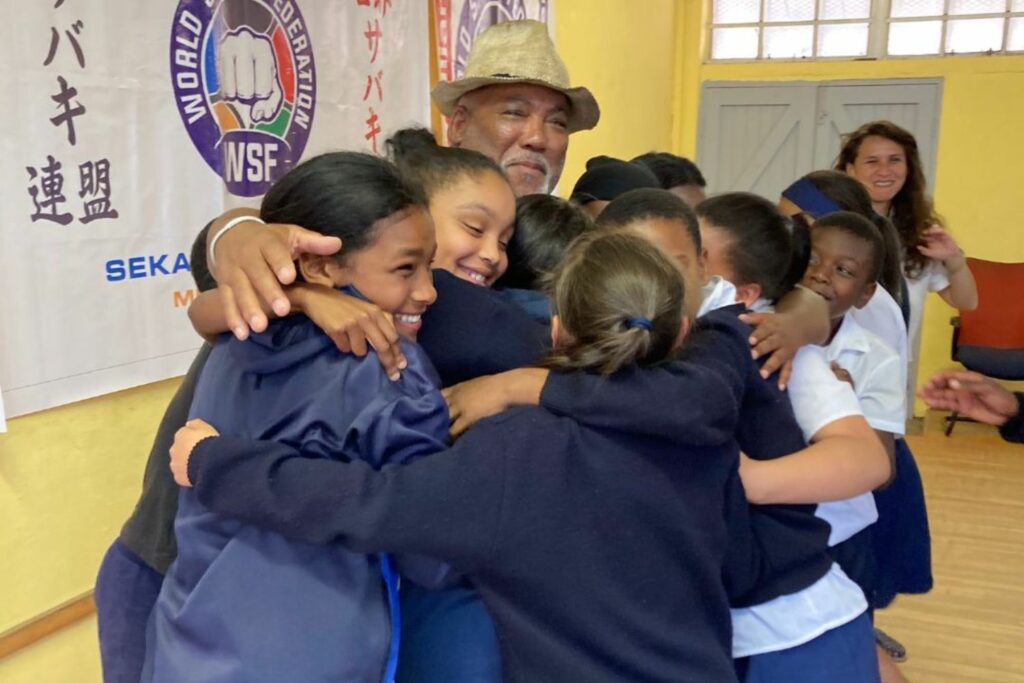 Above: Musician Jonathan Butler receives some appreciation from Sentinel primary school learners.

Cape Town-born musician Jonathan Butler shed light on the profound impact of after-school programmes, such as Lalela's educational arts initiative, which fosters creativity and personal growth within young people.
Grammy-nominated musician and proud Lalela board member, Jonathan Butler, recently made his annual trip back to Cape Town, his hometown, to celebrate his birthday in a special way.
Butler has long been an advocate for Lalela's after-school educational arts programmes. During his visit to Sentinel Primary in Hout Bay, he and his guests actively participated in the play and art-making activities that are at the heart of the Lalela approach.
Born in Belgravia Estate Athlone, Butler has spent over 40 years of his musical career abroad.
He shared, "I'm honoured to be a board member of Lalela. I take it very seriously and don't take it for granted. Sometimes, it's what you do behind the scenes that matters. I've been sowing seeds at home for a long time, and it's good to see the development. I believe in giving back in every way I can, through mentoring and setting an example."
Above: Jonathan Butler's visit  included a tour to Sentinel primary in Hout Bay where he took part in an art activation conducted by the young people participating in the Lalela after-school programme.
The #LightsOnAfterSchool Campaign
Butler's visit underscored the power of after-school programmes such as Lalela's educational arts initiative, which serves young people in under-resourced communities. After-school programmes are crucial for inspiring, motivating, and keeping young people engaged when the school day ends.
This month, Lalela joins the #LightsOnAfterSchool Campaign, aligning with other after-school offerings in the province to highlight the beneficial impact of such programmes. The campaign, launched by the After School Alliance in the United States in October 2000, raises awareness of the vital role that after-school programmes play in supporting learners, educators as well as communities in which these activities take place.
After-school programmes offer a wide range of opportunities for young people, enabling them to explore new horizons, unlock their potential, receive academic support, access essential psychosocial assistance, and in Lalela's programmes, nurture their creativity and entrepreneurial instincts.
Over the past 13 years, Lalela has been dedicated to providing educational arts after-school programmes in the Western Cape, Johannesburg, and Zimbabwe.
Lalela's commitment and impact was recently acknowledged through the prestigious Best Arts and Culture Programme Award at the 21st Cultural Affairs Awards, hosted by the Western Cape Department of Cultural Affairs and Sport.
Tandi Makhabeni who is a senior facilitator at Lalela was nominated as Best Arts and Culture Coach.
Tandi explains the value of Lalela's after-school programmes, "I believe the primary benefit is the safety it offers to the young people. While their parents are still at work, they have a secure space to stay until their parents return home. Lalela's after-school programmes aid them in discovering their talents and strengths, providing a space for them to unwind after a busy day. Additionally, for students who face academic challenges, our after-school programme fosters a sense of belonging, as there is no judgment, and they can progress at their own pace, free from the constraints of right and wrong.
The Benefits of After School Programmes
In South Africa, the Youth and After School Programme Office of the Department of Cultural Affairs and Sport, in collaboration with The Learning Trust and Community Chest of the Western Cape, has been actively involved in bringing this campaign to our local context.
This year marks the fourth consecutive year of running the #LightsOnAfterSchool Campaign in South Africa.
According to the After School Alliance there is: "a large and powerful body of evidence (that) demonstrates improvements in grades, school attendance, behaviour, and more among children who participate in afterschool programs. Researchers have also found that students in afterschool programmes are more engaged in school and excited about learning, and develop critical work and life skills such as problem solving, teamwork, and communications."
In Lalela's after-school programmes, we see the evidence of the impact of our educational arts offering to young people.
For example, Matric learners from Lalela's programmes celebrated a pass rate of 100% in 2021, which was above the pass rate of their respective schools.
Read our latest annual report for more details.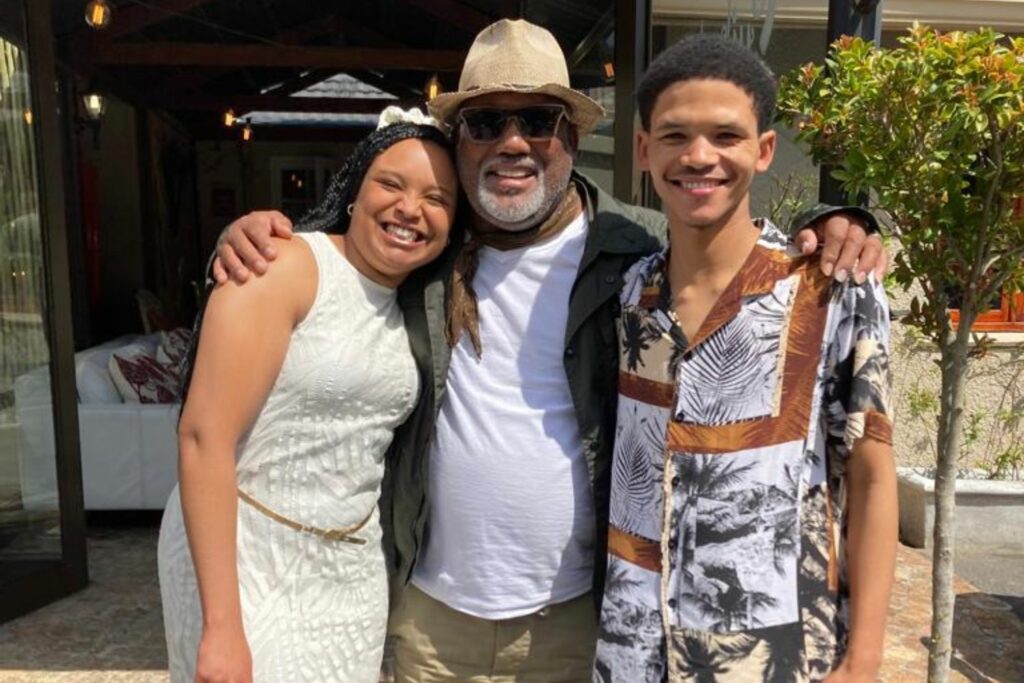 Above: Jonathan Butler together with Lalela's Arnique and Ryan.

At Lalela we also witness the various ways our educational arts after-school programme benefits young people with the necessary "soft skills" to navigate life successfully.
As part of our Monitoring & Evaluation in 2022, there was a significant 29% increase in the number of learners who reported that they usually or always consider other people's feelings, with 67% compared to 38% in 2021.
Notably, all learners now consider other people's feelings at least some of the time. Additionally, 100% of the learners strongly indicated that they are contemplating a meaningful career for their future, with those who previously marked "sometimes" or "never" in 2021 now marking "usually" or "always" in 2022. Furthermore, in 2022, all learners usually or always feel they are great just the way they are, demonstrating increased self-confidence compared to 2021, where learners who marked "never" or "sometimes" now mark "usually" or "always."
The campaign draws attention to the critical need for quality after-school programmes for learners.
The #LightsOnAfterSchool Campaign is not just an event; it is a celebration of the dedicated individuals such as our Lalela team who are committed to closing the opportunity gap and nurturing the talents and passions of young people.
By supporting our work at Lalela, you will play an integral role in demonstrating our collective commitment to supporting the holistic development of our learners.
Share this story with a friend...
Your generosity makes it possible for Lalela's educational arts programmes to create meaningful change that affects thousands of at-risk children in Sub-Saharan Africa.
Your generosity makes it possible for Lalela's educational arts programmes to create meaningful change that affects thousands of at-risk children in Sub-Saharan Africa.
SUBSCRIBE TO OUR NEWSLETTER
SUBSCRIBE TO OUR NEWSLETTER